I have a bit of an obsession with preserving memories.
Anyone who knows me well, knows that I like my pictures to be organized and in albums. If there is a story for the pictures, I document it, because 10,20,50 years from now, I want my grandchildren to know the importance of the pictures and why they were taken.
I am also obsessed with traditions.
One of the things I started with the kids is taking pictures of each of them on their birthday.
The boys wear one of Mr. Momma's dress shirts. The same one every year.
And Princess wears an apron.
This was Princess' first time considering she is only 1 and our "session" was a complete disaster. She had no interest and refused to sit or even look at the camera for longer than 1 millionth of a second.
Fun.
Not.
Anyways, here are a couple from approximately 98 and to say that these were a few of our best will make you realize how disastrous those 15 minutes were.
Lets hope for more success next year.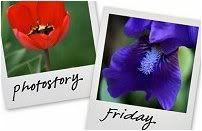 Hosted by Cecily and MamaGeek