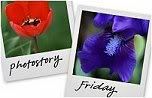 Hosted by Cecily and MamaGeek
I love butterflies.
Alot.

Wouldnt it be awesome to own a butterfly conservatory?
Where you could have pretty plants that attract the butterflies.
Ooo.....I would love being the "Butterfly Lady".

I think I love them because there are so many different types.
And colours.
And sizes.
And they are quiet.
Noisy, dirty animals are not my thing.

Butterflies only live for 2-3 weeks.
So I may get attached and then when each one dies I may get depressed.
And cry alot.
And say "Why my butterfly? It's just not fair"

So maybe it is better if I just visit butterfly places.
And admire them as a visitor instead.

Buuuttttttttt..... if I did have a butterfly for a pet, I would name this one "Angel".
Because she looks like one.

And this one I would call "Norm"


But I would definitely not get attached.


*These pictures were taken today at a local butterfly conservatory by moi. If you have never been to one, I highly recommend it*