I love Autumn
. If I had to choose I would say it is my favourite season.
The
colours
.
The cooler air.
But not too cool that we have to bundle up.
Halloween.
Thanksgiving.

School.
One thing I do not like about
Autumn
is the darkness.
The long bright days get shorter and shorter.
I am not a fan of the early darkness.
Nope. Not at all.
But I am not going to complain to Mother Nature because last time I did that, she smacked us with a tornado.
So this
Fall
I will enjoy it.
Be thankful I am here to experience yet another wonderful season.
And I will take pictures.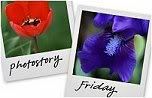 Hosted by Cecily and Izzy 'N Emmy