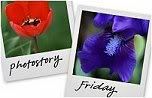 Hosted by Cecily and MamaGeek

I live in Canada.

My country has a reputation of being cold and snowy. We don't live in igloos. We don't spend our days ice fishing and cutting down trees to heat our homes. Well not all of us anyways.............

But we are living up to our reputation of being The Great White North. It isn't even "officially" winter yet but this is what it looks like outside my house.

Feel sorry for me????