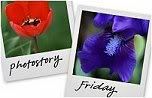 Hosted by Cecily and MamaGeek

Last weekend was the first of two baking weekends. Since we moved into our new house with our dream kitchen, it is our favourite place. Aside from the fact that it holds our favourite thing...food.....we
love
to be in this room. Eating is our favourite thing to do. Baking + eating is why Momma hasnt lost the 20lbs she wants to lose.
Anyways, someone stole my husband and sent back a husband who looks exactly like my old one and talks like my old one but the new one likes to make pies.
MY HUSBAND LIKES TO BAKE PIES.
I never thought those words would ever come out of my mouth.
I have proof. Looky here my friends.

Man hands. Holding bag of flour. Standing next to mixing bowl.
The finished un-baked pie. Prepared by my imposter husband. Imposter husband even carved out our initial as his "signature" to his masterpiece.
I wonder if my "new" husband likes bluegrass music. If he doesnt, I just might keep him.