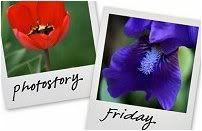 Hosted by Cecily and MamaGeek


To be honest,

winter sucks.



I am not a fan of the season. It doesn't matter that I am 100% Canadian...born and raised.

I still do not enjoy it.






Except for days like this.




There was no risk of frostbite to exposed skin in 2 minutes. My boogers didnt freeze in 30 seconds. My children actually
wanted
to be outside.