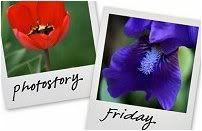 Hosted by Cecily and MamaGeek
Once upon a time
there was a
beautiful little girl
who recently started eating
"big
people food".
Not much, but a bit here and there made her feel like a big person and quite happy to experience the challenge of picking things up. Ooo, it was so much fun trying to cath the lil' buggers in her index finger and thumb. Forget about the the toys, give her some
Cheerios
and she was happy for hours.
Not really hours because her wonderful, fantastic mother would not keep her restrained in her high chair for that long. Promise
.