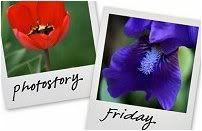 Hosted by Cecily and MamaGeek
Once upon a time there was a handsome young fellow who met a pretty young gal.

They fell in love.

They created a beautiful little girl that they named Momma.
Five years later, they made a handsome baby boy.
The family of four lived happily ever after,
with some bumps along the road.

Today is the handsome young fellow's birthday
aka my daddy
.
In honour of my daddy,
who still is a handsome young fellow by the way,
I give you pictures.
He is going to kill me for this...........so much for the happily ever after part.....