I looked like this.
Big.
Huge
. Along with the fact that I was getting no sleep, we were in the process of selling our home, I was constipated and uncomfortable, I was a joy to be around.
Right dear?

Then I had to have a late ultrasound.
The doctor said it was because she wanted to see baby's position and size, but my mind wandered. I worried. I kinda freaked out actually. I realized that none of the stresses mattered.
As long as my baby was healthy, everything would be fine.

Everything was fine.
I thank the Good Man Above every single day for what he has given me.


Three beautiful, healthy children.


A loving husband.


It doesn't get any better than this.


Now if I could just lose that last 20lbs. Then I would really be a joy to be around.


Amen.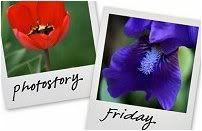 Hosted by Cecily and MamaGeek