I was on the ball this year.

Bought Easter stuff early.

Organized everything and put it all into bags.

Tied up bags and hid them in the basement where children could not find them.

Pat on the back for Momma.

She is great isn't she? Yes, I am, thank you very much.

Oh yeah.

I have a dog.

Studley is his name.

He isn't the smartest dog around.

Except when there is chocolate and candy hidden in bags, tied up in the basement.




Another picture to add to my book titled "Reasons why owning a dog is not always enjoyable"


Eating Easter chocolate/candy/gum is Reason #87.


He is still alive just in case you are wondering. Apparently the "chocolate is deadly for dogs" fact does not apply to my dog.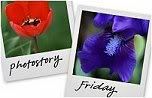 Hosted by Cecily and MamaGeek