See Rowdy ride his bike over homemade bike ramps.

See Rowdy concentrate.

See Rowdy be cool.

See Rowdy fall.
See Rowdy get very angry.
See Rowdy kick his bike and call it a "friggin dammithead". Oops...I didnt capture that moment, but it happened. Really.

See Rowdy give up on biking over ramps and decide to go fishing in the ditch instead.
With a branch.

Moral of the story-

When you are unsuccessful at something, beat the heck out of it, stomp away and move on to something else.
The End.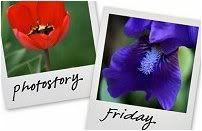 Hosted by Cecily and MamaGeek