Baboons.
Similar to monkeys.
They have terrible looking behinds.
Ew.
I saw alot of them recently.
Up close.
They are kinda cute.


Kinda.


They enjoy climbing on vehicles.


And staying there for awhile.
To sun.
Pick eachother's fur.
Scratch their behinds.
Or..well....to.....umm....do the "nasty".


They seem to enjoy staying in "troops".


And just hanging out.




And enjoying life.




It is a pretty darn good life they have where I was.


Especially because they can take apart your vehicle.


Can you guess where I went?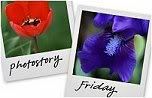 Hosted by Cecily and MamaGeek