They are beautiful creatures.
but graceful.

They are even kinda cute.
When they look you right in the eye.

I love to watch them walk.
Slowly....
but with a purpose.

Their purpose being coming over to see me.
And saying "hello" in giraffe language.
I say "hello" right back.
As they pose for a picture.

I think Princess likes them too.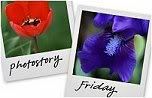 Hosted by Cecily and MamaGeek