This summer is knockin' me down......

I love my kids but they are not easy. One boy is at the age when he thinks it is cool to "diss" everyone around him. The other boy is at the age of thinking that everyone has to do what he says, when he says. And if you don't, look out.
My daughter is 15 months and busy. I mean she just does not stop.
And me, well, I am a Momma who has never experienced all of this before. And caring for three children who have different needs and demands wears me out.
Physically. Emotionally.
Sometimes I just want to sit down
. I want to sit down and not be asked to do something, to see something, to get something. I want to sit down without yelling.
I want to just sit.
But then I look at pictures like this one and remind myself that this time of my life will pass just as quickly as the last 34 years and I need to enjoy it now.
I need to sit and smile
. In the midst of chaos.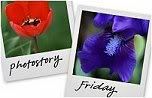 Hosted by Cecily and MamaGeek