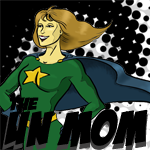 As I was watching the Emmy awards the other night I found myself thinking. "What the heck am I watching this crap for?" Yes, I enjoy television but not so much that I need to watch incredibly rich celebrities celebrate themselves even more. Don't they have enough??

So I paid attention to their clothing.

Because I like clothing. Mostly jeans and sweatshirts but dresses and heels are fine too. I can dream cant I?

Just because I live my life in grubby clothes and only own one dress that fits me and one pair of black dress pants with a blouse doesn't mean I don't notice a great outfit.

I know what looks good.

And what doesn't.

I think.

So I bring you my fashion commentary from the 2009 Emmy Awards. Next year you can look for me on the red carpet wearing my one dress. Maybe I would be allowed to borrow some jewellery.....

Heidi Klum. Good for you. At this stage of each of my pregnancies I was only interested in moomoos and would not be seen out in public unless I was making my way to the hospital to give birth. What I want to know is why she hasn't gained any weight anywhere else except her tummy. That is wrong. I hate her. Damn her!


Holy hips Batman! Most women try to hide their hips, not make them bigger with a big bustle-thing. And where is the million dollar necklace? Shame on you!

Love the colour. Hate the hairdo. Do not like the belt. Who is she?

Umm.....I think this gal got hold of some big animal's teeth and made them into a necklace. Ewww.

Sarah McLachlan is my absolute favourite singer ever. Name one of her songs and I can sing every single word, guaranteed. Her voice is angelic but her fashion sense sucks. Even the guy behind her is wondering what the heck happened.

Ummm.......I have no words.
Except distasteful.

My favourite dress of the night goes to Sandra Oh from Grey's Anatomy. She looked shiny, stunning, spectacular, skinny....but not too skinny, simple and shimmery. I loved it.
I am sure she will sleep better knowing that.


Signing off from the red carpet. This is Momma, for Blog TV.

Ok, that was tacky. Even I know that.