I am thinking of turning this blog into some sort of random nonsense kinda place, because, well, that's all I write about.
This could mean a few things.
My life is so boring that I really have nothing to talk about.
Um...yeah....that's all I can think of.

So, lets chat about Breaking Bad.
Holymotherofgoodpeople this show is effing amazing.
I now know why everyone talked about it for years when I didn't have Netflix and was too cheap to spend $8/month.
It wasn't until all of the hype about the finale, that I finally convinced myself to get it, and now I cannot stop watching it.
I want to watch it all day.
I want my children to go to bed at 630pm so I can watch it.
I want it to come back for 20 more seasons please and thank you.



My boys recently won more awards at school because they are the best kids to ever walk this Earth.
I took my good camera with my awesome zoom lens and this is the photo I got.
Apparently I embarrass them or something.



My daughter has no top teeth.
OK, she has a few, but not many in the front.
Please send the Tooth Fairy some $$$ as she is broke.
And send the poor kid some pudding and jello because she cant chew anything.



P.S. Don't ever google "People with no top teeth". I am scarred for life.

Dear Ellen DeGeneres
When I told my children you were 55 years old, they were shocked. They thought you were 27, because you don't have any wrinkles or gray hairs and you dress cool and dance alot. I think this is a sign that you should invite us to your show and maybe even to your house for some dinner and a board game.



This weekend is Thanksgiving for us wonderful peeps up here in Canada.
I am thankful for Ritz crackers.
Redken hair products.
Comfy pants.
Pumpkin scented candles.
And all that other mushy stuff.



Happy weekend y'all!


Follow me on Instagram.
Google+
Pinterest
Bloglovin
Facebook
I'm too lazy to link, so check out the sidebar.

hugsand smooches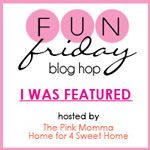 Hosted by Cecily and Lolli