I enjoy cake.
White cake with white icing please and thank you.
Princess recently celebrated her FIRST birthday,
and, yes we had cake.
Princess cake. How perfect huh?
I figured I had better do all the "Princessy" stuff while I can because with two older brothers and a daddy who enjoys being outdoors in the mud, she will be a little tomboy.
So dresses, hair bows and pretty pink Princess stuff it is until she has a say.

This was her first time eating cake
and being the wonderful Mommy that I am, I had the camera ready and took approximately 57 pictures of the same thing. But....remember, her facial expression may change and a special moment may happen that I cannot miss, so I was prepared with camera in my hand and video camera set up on the table.
She looked at her piece of cake for a bit.


Then squeezed it between her fingers.


Put some in her mouth.


Shivered and quivered when the sugar high hit.


And then ate some more.....
...and more.


Then wiped it in her hair.


Clapped her hands.


Yay Princess!



She had fun.


Everyone had fun watching her.


My baby girl is 1.


Hold me.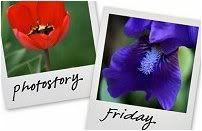 Hosted by Cecily and MamaGeek