A Mothers Day tradition
in my family is walking up to the family maple bush.
My grandparents have alot of land and as I have gotten older, I have grown to appreciate all of it. My family is so fortunate. I know that now that I am a grown up and actually do things with them.
They are even kinda cool.
But dont tell them I said that.
Anyways, all of us hiked up to the bush....including my almost 82 year old grandmother, thank you very much. Yes, she
really
is Superwoman.
And we saw trilliums.
The official flower of Ontario.
Ontario, Canada that is.
Alot
of trilliums. There is nothing prettier than walking into the forest covered in a carpet of bright white trilliums.
As I snapped away taking many, many pictures, I took it all in.

The flowers. The sun. The people surrounding me. My 82 grandmother walking faster than everyone else. The moment.
My grandmother.
My mother.
Myself.
My daughter.
Together.
At my favourite place in the world.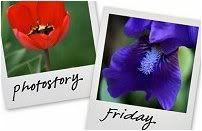 Hosted by Cecily and MamaGeek