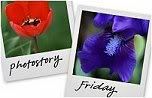 Hosted by Cecily and MamaGeek
This is our door.


We use it 99.9% of the time.
In and out. In and out.
All day, every day.
As Mr. Momma casually walked up to the door to come in and tell me how much he loves me, he was greeted by a friend.
I now have nightmares that this "friend" found his way into our house and is waiting for the perfect moment to bite me on the bum as I sit on the toilet.


I am considering moving.
Hold me.