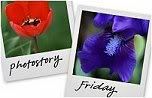 Hosted by Cecily and MamaGeek
Once again I took my kids somewhere fun and educational.
It was my moms idea.

We toured this very old building
(quite a few old buildings actually),
complete with
very small
beds and blankets.
The boys were quite fascinated.
And I had a lightbulb moment as each boy yelled out of the window "I am in jail!".
Hmmmm..............
Shelter.
Bed.
Blankets.
Outhouse.
Maybe I could slip out of there and they wouldn't even notice.
They noticed.