This girl
is almost 17 months old.
This girl
has crazy hair.
But hates to wear girly clips in it to make it look pretty.
This girl
is teething......
which makes her cranky....
and causes her to drool constantly.
This girl
laughs hysterically when she walks backwards.
And climbs on the couch.
And the table.
And Studley.




This girl loves broccoli.
And corn on the cob....off the cob.
She loves chicken.
Kraft Dinner.
Pasta.
And her "baba"


This girl dances to any song she hears.
Including television commercials.
And bluegrass music.
Sometimes she even sings along.
And claps her hands.
But stops when she has an audience.


This girl says "hi" to everyone she sees.
And continues to say it until they say "hi" back.
This girl hates having her diaper changed.
And then poops as soon as she has a clean one on.
This girl loves to share.
Stones.
Paper.
Toys.
Food.
And boogers.


This girl completes me.
How did I ever live without her?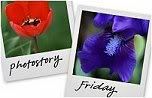 Hosted by Cecily and MamaGeek