Once upon a time, a nice, loving family went to the pumpkin farm.
Momma tried to take a nice fall picture of all three children together.
Momma and Mr. Momma spent minutes persuading them to jump up on the hay bale. Then they placed each child in the perfect position for the perfect picture.This was the result.


We will try again next year.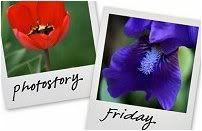 Hosted by Cecily and

Kelli