Yeah.
Cats are cute.

If you aren't allergic and don't mind being ignored.
They are even cute when you put tape on the pads of their feet and watch them walk around.
It is pretty darn cute when you put a bit of peanut butter on the roof of their mouth and watch them try to get it off.
But I have never done any of that.
Really.
Baby girls are cute.

They are even cuter when playing in the tub.
With a Mohawk.
Wet cats are not cute
.
At all.
Wet babies with Mohawks are.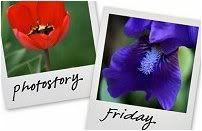 Hosted by Cecily and MamaGeek
* Don't forget about my
giveaway!