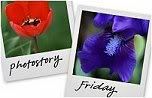 Hosted by Cecily and Carissa
Why is this one of my favourite pictures of all time?
Because my grandmother, mother, myself and my daughter are all in it. Together.
That's

4 generations

my friends. In the same picture.

When was this picture taken?
May 2008.

Mothers Day

actually. How appropriate.

Where was it taken?
On my Grandma's sofa.





Hopefully you didnt notice the dark circles under my eyes.
And my rather large thighs.
Happy Friday folks.
You can go here to see one of my other favourite pictures of all time.