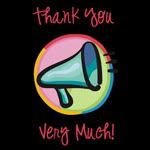 Welcome to another week when Momma says a few

thank yous

. Because she is nice like that....or maybe not.

I consider this my therapy. Free therapy.

So instead of me paying hundreds of dollars to sit on your couch and bitch, you can sit back, nod your head and validate my feelings. For free.

Thank You.

This week I am saying many

TU's

to one of the largest Zoos in Canada. Brace yourselves.

*

To the Zoo

who refused to accept our gift certificates because they were recently expired. Thank you very much.


*

To the Zoo

who charged us $78 admission after denying our gift certificates, thanks alot.


*

To the Zoo

who charges the same price to enter even though many of the attractions do not open until the summer, thank you very much.


*

To the Zoo

who did not have many of the popular animals out and about for people who spent $78 to see them, I thank you.



*

To the parents of rude children

who pushed my children so they could see the animals, thanks alot. I appreciate your wonderful parenting skills and enjoyed watching you not teach your kids respect and courtesy.


*

To the restaurants and snack bars at the Zoo

, I thank you for charging $4 for a small pop.


*

Thank you for making the Canadian Domain approximately 1 mile down a steep hill

and only one way out. Up the 1 mile steep hill. It is ok that we had to push a stroller, carry our camera and listen to our children whine and complain while trying to find our own lungs as we made our way to the top. Really.


*

Thank you for not having my kids favourite area open

at all. I didn't mind that they were bummed out about it. I enjoy listening to my children whine more often than they already do. The fact that we spent $78 to see it didn't upset us at all.




*Oh yeah, and

thanks for keeping the giraffes behind a 25 foot tall fence

instead of in the open field where they can come right up to us. I wasn't upset about that. Not one bit.



*

To the gift store at the Zoo

that charged us $78 admission, thanks for charging $20 for a Webkinz that is $12 anywhere else. We understand you need the money.


*And last but not least,

to the young man at Customer Service

, thank you for refunding our $78 and accepting our gift certificates after all. I realize that my husband may have scared you a tad with his deep, loud very angry voice but your kindness was appreciated.

We will not be returning anytime soon.

Love Momma