Guys, I found them!


After 6 weeks, the hidden kittens have appeared.


They have been hiding away in the loft/roof of our barn, tucked down in the soffit.
I don't know what a soffit is, but that's what hubby called it so I am taking his word.
Whatever.


I lured them out with the smell of gross, disgusting, fishy-smelling canned food....
...and my kitty cat sounds.


I am totally positive it was my kitty sounds that convinced them to appear from the depths of wherever they were, and not the food.


As you can see, I think they hated the food.


A few things I should mention
Blackie, their mommy has been missing for many days.
I have only seen three of the five kittens.
They are extremely mean and nasty to humans.
Hubby wants me to keep them mean and nasty so they don't invade our home with the other little buggers.
I want them to be nice so we can give them away to little trick or treaters.
I mean, seriously....
kids would love to be handed a kitten instead of candy, right?
Homestead Revival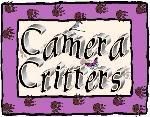 Lisa's Chaos