Word up, peeps.
Its Friday and you know what that means?
Random nonsense.
My favourite kind of stuff because then I don't have to get all creative and make collage thingies that no one sees.
Geesh, I didn't think it was that bad.

Anyways, I am still thawing out after our week of -30 temperatures and snow dumps.
You know its bad when Jersey the dog doesn't even try to run away.
And its really bad when he pisses on the deck because he cant stand the thought of venturing out into deep snow.
Jerk.

So, lets get at it, shall we?
*I recently purchased a hair straightener iron thingy, but am too scared to use it, because I think this might happen.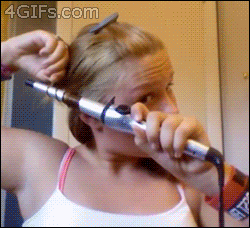 *I have grieved the end of Breaking Bad and am now addicted to Dexter. The sister annoys me and is too skinny, but I enjoy the weirdness of Dexter. I also like that he kills bad people.

*Dear Courtney Cox. What happened to your face?

*Our heating bill was over $1000 this month. So, we have been trying to warm the house with our wood burning fireplace to cut back on the cost. I have been starting fires all week with paper and kindling. Then yesterday I found hubby's fire starter logs.
Now that I know I am a Girl Scout, my next goal is to build a shelter out of palm leaves and coconuts.
*This is my daughter. She is obsessed with the movie "Frozen" and watches YouTube constantly. Apparently she learned the words.......