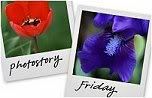 Hosted by Cecily and Chris
Once upon a time
there was a dog named
Studley
. He was a good dog and only got into trouble once in awhile. Studley's
family
decided to take a short family vacation. Without him.
Poor Studley.
Studley's wonderful
human Grandma and Papa
agreed to watch Studley while his family enjoyed a few days away. He was very
excited
about this because they like to feed him human food and give him lots of
love and attention
. Grandma and Papa live in a subdivision with many houses around and a fully fenced yard. Different than the 5 acres Studley was used to but he likes change every once in awhile.
All was going perfectly fine until the night before Studley's family came home. Grandma let
Studley
out to do his business before heading to bed. He ran outside to relieve himself and just to check that all was well in their backyard.
"THUMP"

"WOOF"

Grandma went to let
Studley
in not thinking much of the commotion when all of a sudden Studley tried to attack her cats. This was not something Studley had ever done before. In fact he was always the one to stay clear away from the snooty felines.
*sniff sniff*

Grandma smelled something.
She thought something was burning.
So she bent down and smelled Studley and was overcome by the horrible smell that came from his head area.
*sniff*

She smelled again.
Grandma and Papa discovered that
Studley had met up with one of these
in their backyard.
Their postage-stamp-sized backyard in a neighbourhood surrounded by houses.



Studley got sprayed!

All over his face.
In their backyard. In town.
At 10pm at night.
While his family was away enjoying their vacation.
Fast forward one week. Studley still smells like skunk.
And so does Grandma and Papa's house.
The End.
*If you know of any magic solution to get skunk smell off of a dog and out of carpet, it would be greatly appreciated. Thanks muchly.
You can read more about Studley here
And here
And here
And here